We worked with the Gandaki Tourism board to build Pokhara's brand identity. The primary objective for this project was to create a brand for the beautiful valley and showcase the city and surrounding areas innovatively, to celebrate the city in all its glory. Our brand guideline provides a set of standards to ensure that Pokhara city projects a professional and consistent image and captures the various elements that are innate to this paradisiacal place.
Pokhara valley has something special to offer to everyone regardless of their age, and nationality, at any time of the year. We have tried to communicate through our logo that Pokhara valley is more than just natural beauty or adventure. The valley provides a little bit of everything for everyone - the perfect blend of nature, fun, adventure and hospitality.

You can see that we have taken inspiration from the different features of the city for the logo. Keeping our attention towards the minute details, and given that Pokhara is a valley that receives a lot of rainfall, we have represented the valley in vibrant 7 rainbow colors for the 7 letters of Pokhara. Every icon used in the logo addresses the natural and major attractions of the city and its energy.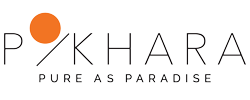 The secondary logo of Pokhara seeks to give continuity to the mother brand of Visit Nepal 2020, and captures the fact that when people think of Pokhara some of the first things that come to mind are: mountains, sunrise and sunset and the beautiful golden hours. Our branding is based on the principal of simplicity, and modern aesthetics, as Pokhara is already a beautiful place, our team felt like a simple understated logo would help the attention stay on the natural beauty of the paradise-like valley.
In honor of the city's vibrancy, rich culture and local hospitality, we have created a mural design to represent all things innate to this valley. We have also incorporated the same vibrant design for other collaterals that can be used to promote the city. Some examples of the designs created for Pokhara are mentioned here.

We seek to grow the old branding with the new tagline: Pokhara, Pure As Paradise. Playing with alliteration, and also highlighting both the natural, adventure, spiritual, and hospitable elements of Pokhara, the tagline captures all that one can expect in Pokhara.
Please come take a look at this thematic video of the Pokhara valley here and delve right into the core of what the valley has to offer. Click here for video link.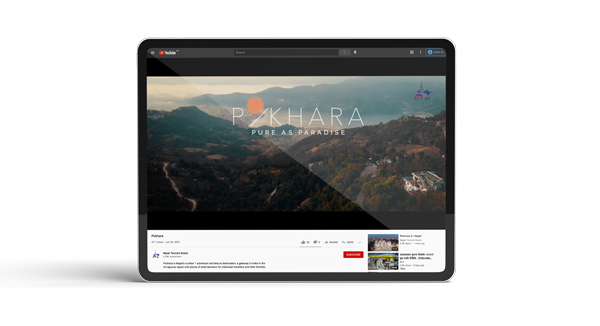 It was an honor for us to be a part of this city branding project, and we had a team of enthusiastic KU Art School Graduates leading the design and an LSE graduate helping ensure that Pokhara is portrayed in a modern and relatable way to both domestic and international audiences. We are excited to see the city come alive through this new integrated communication, and we hope all the stakeholders will take this forward.
Please don't hesitate to reach out to us in case of any queries:
Parash | 9841743362 | This email address is being protected from spambots. You need JavaScript enabled to view it.
Sugen | 9849542300 | This email address is being protected from spambots. You need JavaScript enabled to view it.